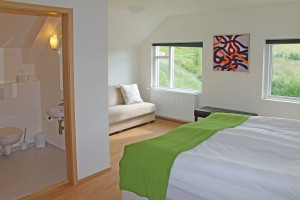 Öndólfsstaðir farm Bed&Breakfast is a guesthouse located in the peaceful Reykjadalur valley in North Iceland, by road 846, only 3 km north of Laugar village. In Laugar you'll find a small supermarket and restaurant Dalakofinn, a bank, a post office and a 25m swimming pool with two hot tubs.
Öndólfsstaðir is perfectly located if you want to experience the natural wonders of North Iceland. Dettifoss and Ásbyrgi (1-1 1/2 hour) Mývatn, Námaskarð, Dimmuborgir and Mývatn Nature Baths (40 min.) Goðafoss waterfall (15 min.) and the town of Akureyri (45 min.) and Húsavík (35 min.).
In Öndólfsstaðir farm B&B we offer 4 double/twin bedrooms with private bathrooms and a variant breakfast. We only offer made up beds. Our guests are welcome to look around on the farm, take walks along the Reykjadalsá river or hike in the hills. The house is heated with geothermal water.
Öndólfsstaðir farm Bed&Breakfast
650 Laugar
Tel.: 891 7607
Email: guest@ondolfsstadir.is
Google maps 65.44870, -17.22971